Altera Cylone V DE0-CV FPGA Development Board 5CEBA4F23
Special Price
PKR39,800.00
was
PKR43,000.00
Altera Cylone V DE0-CV FPGA Development Board 5CEBA4F23
The DE0 Development and Education board is designed in a compact size with all the essential tools for novice users to gain knowledge in areas of digital logic, computer organization and FPGAs. The DE0 Development Board includes software, reference designs, and accessories required to ensure the user simple access in evaluating their DE0 Board.
Specifications:
Cyclone III 3C16 FPGA
15,408 LEs
56 M9K Embedded Memory Blocks
504K total RAM Bits
56 embedded multipliers
4PLLs
346 user I/O pins
fineline BGA 484-pin package
Memory
SDRAM:

One 8-Mbyte Single Data Rate Synchronous Dynamic RAM memory chip

Flash Memory: 4-Mbyte and Support Byte (8-bits)/Word (16-bits) mode
SD card socket: Provides both SPI and SD 1-bit mode SD Card access
Features
Built-in USB Blaster circuit: On-board USB Blaster for programming,Using the Altera EPM240 CPLD.
Altera Serial Configuration device: Altera EPCS4 serial EEPROM chip.
Pushbutton switches: 3 pushbutton switches.
Slide switches: 10 Slide switches.
General User Interfaces: 10 Green color LEDs,4 seven-segment displays and16x2 LCD Interface (Not include LCD module).
Clock inputs: 50-MHz oscillator.
VGA output: Uses a 4-bit resistor-network DAC,With 15-pin high-density D-sub connector and supports up to 1280x1024 at 60-Hz refresh rate.
Serial ports: One RS-232 port (Without DB-9 serial connector) and one PS/2 port (Can be used through a PS/2 Y Cable to allow you to connect a keyboard and mouse to one port).
Two 40-pin expansion headers: 72 Cyclone III 3.3V I/O pins, as well as 8 power and ground lines, are brought out to two 40-pin expansion connectors,40- pin header is designed to accept a standard 40-pin ribbon cable used for IDE hard drives.
Diagram: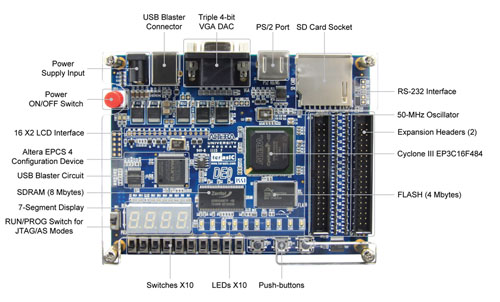 The DE0 package includes:
Altera DE0 board

Usb cable

Adapter DC 7.5V/0.8A (US wall plug)

DE0 CD including:
Altera's Quartus® II Subscription & Web Edition and the Nios® II Embedded Design Suit Evaluation Edition software.

DE0 user manual,Quick strat guide
DE0 User manual here
| | |
| --- | --- |
| Part Number | P0192 |
| Manufacturer | Altera |
| Product Availability | In Stock |
| Weight (KG) | 0.100000 |